Whether you're a history buff, nature lover or looking for something to get your adrenaline racing, Derbyshire and the Peak District is a brilliant place for a day out. A visit to the region isn't complete without a trip to the famous Chatsworth House in the Peak District. Home to the Duke and Duchess of Devonshire, Chatsworth House has something for every age, from the farm and adventure play area for younger ones, to the house and beautiful gardens for culture vultures.
Another architectural gem is Haddon Hall. The stately home is a magnificent example of a fortified manor house and hosts events and exhibitions that bring the stories of the past to life. Visitors can immerse themselves in 900 years of history, art and craftsmanship, along with the opportunity to stroll around the cascading Tudor gardens. Bolsover Castle is another hotspot for history buffs and Instagram-enthusiasts alike. A 17th-century aristocratic retreat, the castle sits on a ridge about the Vale of Scarsdale. There are no barriers inside the "Little Castle" – it is open for exploration. The Peak District also provides a natural playground for outdoor adventurists, with a plethora of cycling and walking routes for all abilities. Its stunning landscape provides opportunities for climbing and caving, while the Rivers Wye and Derwent provide ample opportunity to take in the stunning scenery by canoe or kayak.
If water sports are your thing, then a trip to Carsington Water near Ashbourne is the place to head, offering sailing, windsurfing, kayaking, paddleboarding, powerboating and fly fishing on the reservoir. Younger visitors to Derbyshire will love a day out at Crich Tramway Village – an award-winning visitor attraction that welcomes dogs. Travel back in time to the early 1900s and ride the restored vintage trams through the unique period street and out into the open countryside. Watch as trams are restored from the workshop viewing gallery in the National Tramway Museum. From the horse-powered trams of the 1860s, to the electric-powered trams of the 1960s, this attraction showcases an entire century of tramway travel. The museum is also home to the Discovery Depot, a huge indoor play centre.
---
Our picks
---
Heights of Abraham
Since first opening to visitors in 1780 the Heights of Abraham has remained one of the Peak District's most appealing destinations where stunning natural beauty is matched by human achievement and where the historic blends seamlessly with the futuristic. Today the Heights is rightly famous for its landmark cable car which provides a spectacular journey across the Derwent Valley. At the summit people can experience a unique blend of attractions. There are guided tours down the Great Masson Cavern where, from the glow of a single candle to the whole chamber being flooded with light, its million year history is revealed before exiting further up the hillside to enjoy the magnificent panorama from the Tinker's Shaft viewing point. A virtual tour of the cavern is also available. Visit website
---
Haddon Hall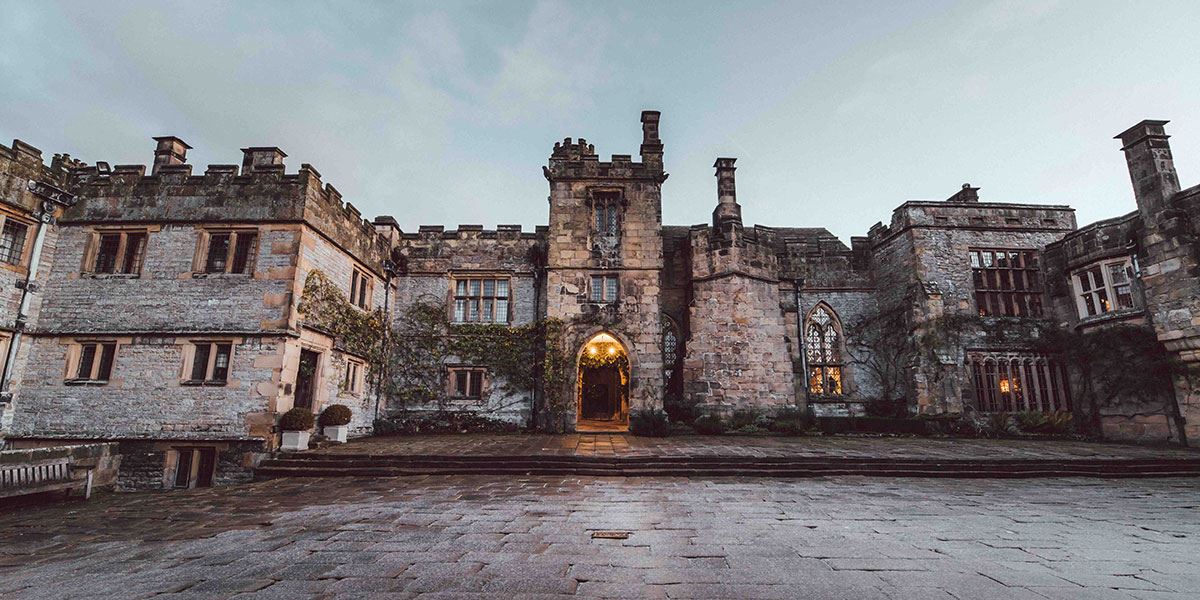 The Estate Office, Haddon Hall, Bakewell DE45 1LA
Haddon Hall has welcomed visitors for hundreds of years and its beauty and atmosphere never fail to enchant. Set in the heart of the beautiful Peak District National Park, parts of the house date from the 12th century, sitting like a jewel in its Elizabethan terraced gardens overlooking the River Wye. Film-makers flock to Haddon Hall to use it as a location, the house and grounds have played host to no less than three versions of Jane Eyre. Screen credits also include Elizabeth, Pride & Prejudice, The Other Boleyn Girl and The Princess Bride, the cult classic movie in which Haddon Hall becomes Prince Humperdinck's Castle and village. Visit website
---
Crich Tramway Village
Visit Crich Tramway Village and be transported back in time with the authentic village street, experience the gentle rumble of trams passing by while you soak up the atmosphere. Whatever the weather, enjoy a fabulous day out packed with excitement, adventure, unlimited electric tram rides and a little learning along the way. The village includes exhibitions, a woodland park, a sculpture trail, indoor and outdoor playgrounds, family activities, a cafe, refreshments and shops. Visit website
---
Pickford's House
Hidden amongst the gorgeous old buildings and cobbled pavement of Friar Gate sits Pickford's House; the professional showcase and family home of Georgian architect Joseph Pickford. Now the museum illustrating aspects of domestic life from the 18th to the 20th centuries, Pickford's House shows the contrast between the master and the servant, the grandeur of Georgian architecture and the changes that occurred in the house over its 250-year life. Visit website
---
National Forest Adventure Farm
Postern Road, Tatenhill, Burton-on-Trent DE13 9SJ
The National Forest Adventure Farm offers exciting indoor fun, outdoor adventure and farm animals. The farm hosts many events throughout the year including Easter activities, huge summer Maize Maze, spooky Halloween daytime fun, scary night time Halloween Screamfest and Christmas celebrations. The National Forest Adventure Farm started life as the National Forest Maize Maze back in 2004. Each year has grown and grown until the Adventure Farm opened as an all year round attraction in May 2011. Visit website
---
Like these? Try these…
Derbyshire and the Peak District restaurants and cafes
Derbyshire and the Peak District shopping
Derbyshire and the Peak District nightlife venues