There is always something to see and do in London. Buckingham Palace has served as the official London residence of Britain's sovereigns since 1837 and today is the administrative headquarters of the Monarch. The Queen may not always be in (The Royal Standard flag raised signals that she is in residence but if the Union Jack is raised she is not) but you can see the Changing of the Guard at 11.30am daily and tours of certain areas of the Palace are available at set times of the year. After taking in the home of the monarchy, just a short walk will take you to the Palace of Westminster – the place where the laws of the land are deliberated – in London's Parliamentary Quarter. Guided tours of the Houses of Parliament offer a combination of 1,000 years of history, modern-day politics and stunning art and architecture.
You cannot visit Westminster and not marvel at the world's most famous bell – Big Ben. Designed by architect Charles Barry as part of the Palace of Westminster, Elizabeth Tower (the 96-metre-tall clock tower which houses Big Ben) was completed in 1859 and the quarter bells chimed for the first time on September 7 that same year. If you're interested in great figures from England's history then you will find many of them laid to rest inside Westminster Abbey. A total of 17 kings and queens are buried here, along with dukes, countesses and famous characters from the past including Charles Darwin, Charles Dickens, Oliver Cromwell and Sir Lawrence Olivier.
For another memorable display of music, head east from Westminster to St Paul's Cathedral, in the 'City'. Designed by Christopher Wren after its predecessor burnt down during the Great Fire of London in 1666, the stunning domed building houses a mesmerising geometric staircase, which looks a little like a giant snail's shell. The collection at the National Maritime Museum is an unparalleled treasure trove of artefacts, models, maps, art and memorabilia and is positioned at the heart of the Royal Museums Greenwich, which also includes the Queen's House, the Cutty Sark and the Royal Observatory. Overlooking the rest of the Royal Museums Greenwich, from the top of the hill, the Royal Observatory explores Greenwich's connections with time. Built in 1675 on the orders of Charles II, the building contains a vast selection of instruments used in timekeeping since the 14th century.
---
Our picks
---
Westminster Abbey
20 Deans Yd, Westminster, London SW1P 3PA
Westminster Abbey is one of the world's greatest churches, with a history stretching back over a thousand years. The Abbey has been the Coronation church since 1066, and the setting for many other great events in the life of the nation, including 16 royal weddings. It is the burial place of Kings and Queens, and of other distinguished figures in the nation's history, from writers and musicians to politicians and scientists. An audio guide, offered free with your entry ticket, is available in 12 languages. Guided tours, led by Abbey vergers, are also available for individuals and family groups. Visit website
---
Royal Observatory Greenwich
Blackheath Ave, Greenwich, London SE10 8XJ
Visit the Royal Observatory Greenwich to stand on the historic Prime Meridian of the World, see the home of Greenwich Mean Time (GMT), and explore your place in the universe at London's only planetarium. Discover the past, present and future wonders of astronomy at the centre of time. Take an amazing journey through the historic home of British astronomy, Greenwich Mean Time and the Prime Meridian of the World. Explore how great scientists first mapped the seas and the stars, stand astride two hemispheres on the Prime Meridian Line, see pioneering inventions and the UK's largest refracting telescope, touch a 4.5 billion year old asteroid, and travel the Universe at London's only planetarium. Visit website
---
Cutty Sark
King William Walk, London SE10 9HT
Discover what life was like on board the real Cutty Sark, the world's sole surviving tea clipper, and fastest ship of her time – now an award-winning visitor attraction in Greenwich. This legendary 19th-century sailing ship has been raised over three metres allowing you the jaw-dropping experience of walking directly underneath and touch the original hull planks and iron framework, which date back to 1869. Visit website
---
Tower of London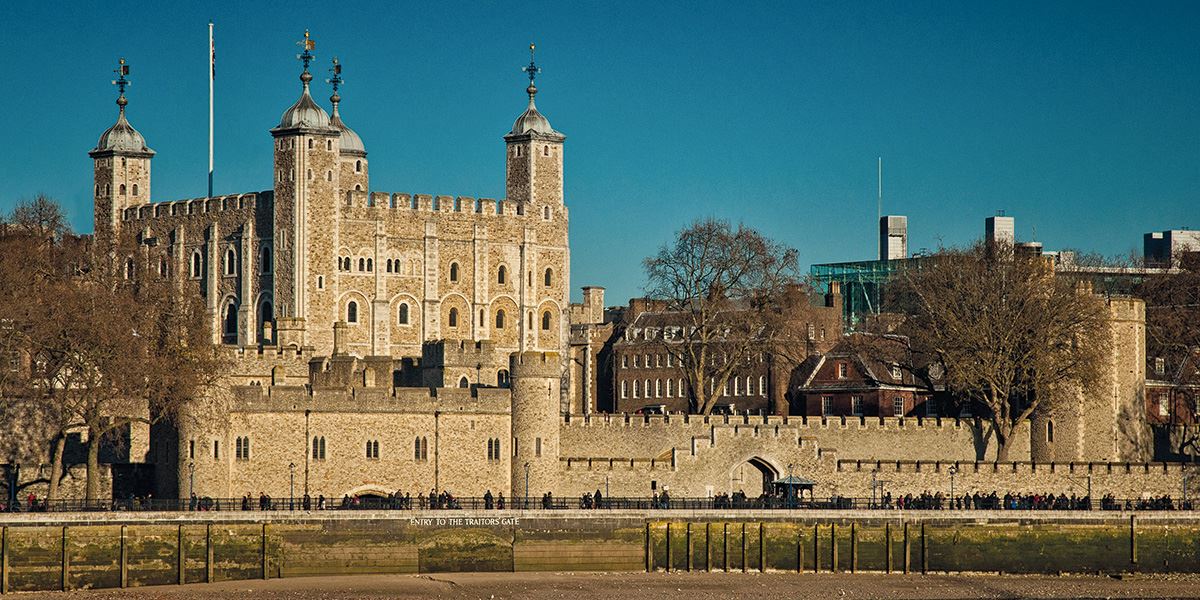 St Katharine's & Wapping, London EC3N 4AB
The entire collection at the Tower of London features over 140 historic ceremonial objects, including regalia and vestments worn by kings and queens of the country at their coronations, as well as the Imperial State Crown, which is worn by the Queen at each State Opening of Parliament. However, the Crown Jewels are not the only reason to visit the Tower of London. This 11th-century fortress is a fantastic day out whatever your interests might be and is one of the country's finest historical attractions. Spanning a triumphant 1,000 years of history, the tower has so much going on that you can easily spend a whole day here. Make sure you join one of the tours led by the Yeoman Warders (popularly known as Beefeaters) and you'll hear entertaining tales of intrigue, imprisonment, execution, torture and more. The tours begin every 30 minutes, last approximately an hour and are included in the entry price. Visit website
---
Queen Elizabeth Olympic Park
Queen Elizabeth Olympic Park is free to visit every day of the week. It's home to the London Stadium, the ArcelorMittal Orbit, the London Aquatics Centre, the Copper Box Arena, Lee Valley VeloPark and Lee Valley Hockey and Tennis Centre – as well as parklands, waterways, playgrounds and cafes. There's always something new to explore – so go along and experience sports, events and iconic venues, or just relax and take in the views. Visit website
---
Like these? Try these…