Food has always been a passion of Londoners and here are the best restaurants and pubs to try. Nearing the top of most people's wishlists when looking for a place to eat in London, is dinner with a view. London's highest restaurant is Duck & Waffle, which sits triumphantly on the 40th floor of the Heron Tower at 110 Bishopsgate and here you can try an array of traditional British dishes with broad European influences and the restaurant's signature dish, duck leg and duck egg on a waffle with maple syrup.
If you don't fancy the food on offer at Duck & Waffle, then don't panic. Descend a floor in the same building and you will find yourself in Sushi Samba, a New York import that serves a fusion of sushi dishes with influences from Japan, Brazil and Peru. Another of London's skyscrapers offering a multitude of dining options with a view is The Shard. Aqua Shard, located on level 31, serves innovative contemporary cuisine which combines the staple ingredients of British cooking with groundbreaking techniques.
Always listed in the top 10 of places to eat with a view in London is The Oxo Tower which, with its positioning on the south bank of the River Thames, has a spectacular outlook towards Charing Cross and St Paul's Cathedral. Those with a taste for the finer things in life can rest assured, as London is one of the top-ranked cities in the world for fine-dining and the capital is quite rightly decorated with Michelin stars year after year. Few Michelin-starred restaurants have views to match that of Galvin at Windows, on the 28th floor of Hilton Park Lane. Another shining star in Mayfair's ever-growing Michelin constellation is the elegantly-understated Alyn Williams at The Westbury.
There are plenty of kid-friendly options in the city, too. At the Rainforest Café on Regent Street they'll go wild watching the indoor waterfalls and real tropical fish, while munching their way through the special kids' menu and enjoying the activity packs and older kids might like to mingle with the stars at Planet Hollywood restaurant near the bright lights of Leicester Square.
---
Our picks
---
The Araki
Unit 4, 12 New Burlington St, Mayfair, London W1S 3BF
If sushi is your thing and you have the cash to splash, then it's worth considering three-star Michelin The Araki. Opened by Japanese sushi master Mitsuhiro Araki in 2015 as part of the £250m W4 development in Mayfair, the restaurant offers a very personal dining experience with space for just nine covers and has a no-choice, set-price menu costing around £300 per head – that's £100 for each of its Michelin stars! Visit website
---
The Cheese Bar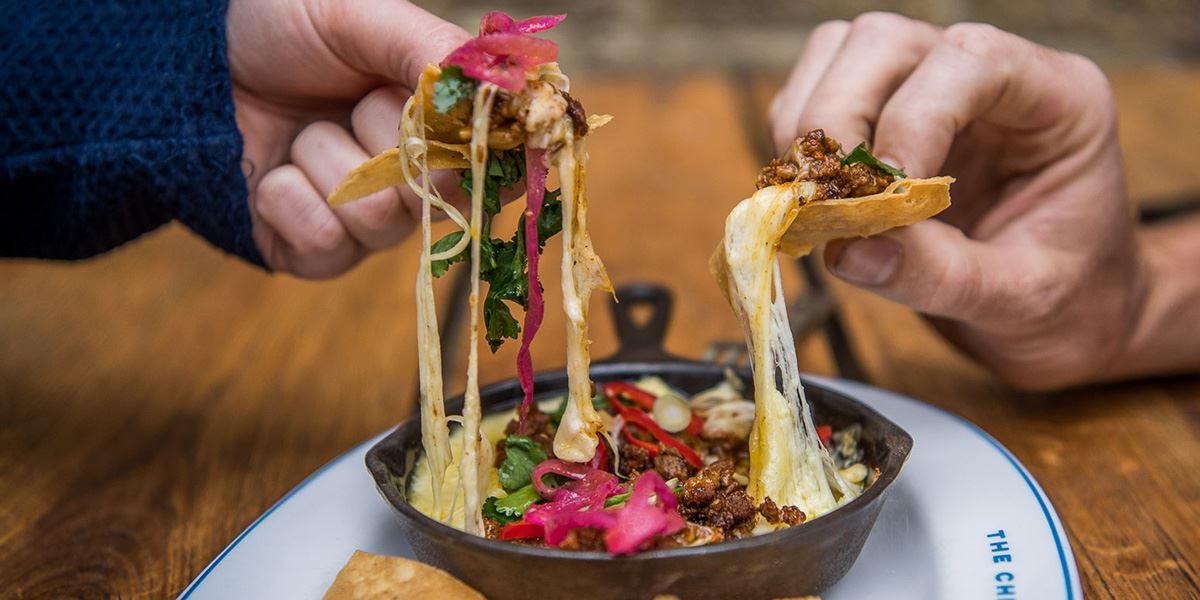 Unit 93, Camden Stables Market, 94 Chalk Farm Rd, Camden Town, London NW1 8AH
The Cheese Bar, situated underneath a burlesque club in Camden Stables Market, is the brainchild of Mathew Carver, founder of the travelling Cheese Truck. This permanent space serves all manner of cheese-based dishes, such as Stilton raclette, grilled cheese sandwiches and even blue cheese ice cream. Visit website
---
Kitchen W8
11-13 Abingdon Rd, Kensington, London W8 6AH
The owners of Kitchen W8, in Kensington, like to refer to as 'Kensington's Michelin-starred neighbourhood restaurant' and they're quite right in doing so. With the intention of being a 'home from home', this friendly restaurant sends you back out of its doors feeling 10 times better than when you entered. Visit website
---
Circus
27-29 Endell St, West End, London WC2H 9BA
With futuristic décor courtesy of British designer Tom Dixon, Circus restaurant and cocktail bar in the West End has a decadent feel and dinner is punctuated by various surprise cabaret and circus acts, which parade around on the tables as you eat. Visit website
---
Granary Square Brasserie
1 Granary Square, Kings Cross, London N1C 4AB
Granary Square Brasserie has become a magnet for foodies and its Caravan restaurant serves one of the best brunches around – particularly as it is served until 4pm. Choose between dishes such as avocado toast sprinkled with chilli, lemon and olive oil or more indulgent options, such as pumpkin waffle topped with baked ricotta, maple and pecans. Visit website
---
Like these? Try these…