With Newcastle hailed the top place in the UK for independent restaurant openings, the area's diverse bar and eating out scene is booming with everything from Michelin star fine dining at Kenny Atkinson's House of Tides to cutting-edge cuisine at Peace and Loaf, cherished classics at Blackfriars, casual street food at Dabbawal and trusted and reliable chains to choose from covering every budget, occasion and tastebud craving.
Newcastle's Grey Street and Quayside areas are especially rich in lively, welcoming, satisfying and competitively-priced independent restaurants, bars and cafes, like the Bridge Tavern gastropub and Dobson and Parnell – where the talented chef proprietor Troy Terrington works his magic with a refined, mainly British and European menu – both of which are tucked under the Tyne Bridge on the north side of the river.
Then there's Six at BALTIC on the Gateshead side of the Tyne which provides unrivalled views along the Quayside as well as modern British-inspired cooking using seasonal, local ingredients. The Quayside area also boasts some of the best Italian eateries on Tyneside in Sabatini's, Gusto and Babucho, while River Beat in what was an old police station in Gateshead, has thrown off the notion that tapas only comes from Spain with its small Asian savoury dishes and colourful, tasty but mainly unfamiliar curries.
---
Our picks
---
Blackfriars
Friars St, Newcastle upon Tyne NE1 4XN
Blackfriars restaurant once served as a 13th-century dining room for the Dominican friars of Newcastle. Today it's one of the city's most recognised eateries with a real taste of the North East. Refurbished in 2017 the restaurant now features a mix of comfortable booth seating and new tables and chairs as well as beautiful stained glass windows. On the menu, you will find gutsy, traditional British food using seasonal produce from the local farms and producers. In the evening you'll find award-winning menus which change regularly to capitalise on seasonal produce. The restaurant holds a Taste of England award from the North East England Tourism Awards.
---
Branches Restaurant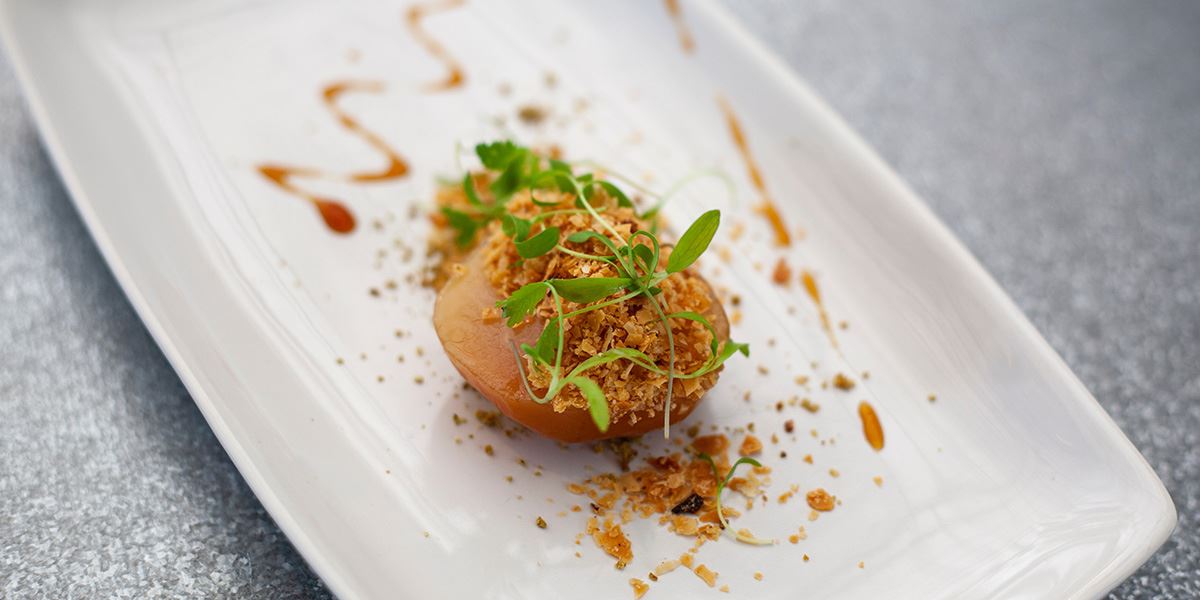 9 Osborne Rd, Jesmond, Newcastle upon Tyne NE2 2AE
Branches Restaurant Jesmond, opened its doors in 2018. Located on the vibrant Osborne Road it aims to provide customers a contemporary elegant dining experience, in a modern floral décor surrounding. The ground floor boasts three stunning focal booths where diners can enjoy their meal under a huge blossom tree. Whilst on the first floor along with additional seating, there is a stunning private dining room, again with the same beautiful floral theme. Branches aims to source the freshest local "best of British" and "around the world" produce from nearby farms and markets to enable them to change their menus regularly and seasonally. Visit website
---
Dobson & Parnell
21 Queen St, Newcastle upon Tyne NE1 3UG
Dobson & Parnell is a 65-seat restaurant that has been named in honour of two of Newcastle's Victorian architectural stalwarts, John Dobson and William Parnell, who designed the original building in 1863. The restaurant is owned by Andy Hook, owner of Blackfriars Restaurant in Newcastle and Hinnies Restaurant in Whitley Bay along with head chef Troy Terrington who was previously head chef for Blackfriars and Jesmond Dene House in Newcastle. Troy's menus change daily depending on the freshest produce he can find and he uses ethically-sourced local, seasonal produce direct from nearby farms and markets. There is a strong focus on sustainability and the kitchen team specialises in preserving techniques such as curing, smoking, salting, brining and fermenting. Visit website
---
Peace & Loaf
217 Jesmond Rd, Jesmond, Newcastle upon Tyne NE2 1LA
Peace & Loaf opened in late 2013 and has already proved to be a roaring success with guests from all over the region. Diners have been wowed with the excellent and diverse range of dishes on offer. Every customer is invited to try food that has been lovingly created, within the north east's most anticipated venue, from one of its most innovative chefs. Highlighting the importance of using only the freshest, locally-sourced produce, Peace & Loaf will offer an exciting, seasonal menu incorporating Dave's signature dishes. Heavily inspired by traditional British cuisine with new ideas, the meticulously-crafted dishes will excite and intrigue even the most discerning of palates. Visit website
---
Sachins
Forth Banks, Newcastle upon Tyne NE1 3SG
Located on the historic Forth Banks of Newcastle-upon-Tyne, Sachins finest Punjabi cuisine has become a local icon since opening over 30 years ago. Sachins menu features a vast array of items without being overwhelming. Whether you are looking for your favourites or to try something new, there's something on the menu for everyone and with varying levels of spice to please the mildest of palettes. Featuring an ambient, atmospheric interior, Sachins is the perfect way to unwind after a long day at the office, to celebrate a special occasion or even just for a meal with a difference. No matter your reason, you can be assured of a friendly welcome every time. Visit Website
---
Like these? Try these…
Newcastle and Gateshead attractions
Newcastle and Gateshead shopping
Newcastle and Gateshead nightlife venues