Whether you prefer to visit a theatre or a museum, we've captured Norfolk's best arts and culture destinations. The Norfolk & Norwich Festival takes over the county for two weeks of the year in May and holds the title as one of the oldest city festivals in England.
In Norwich you'll find a number of music venues and theatres. For the big shows, head to the Theatre Royal where you can see visiting comedians, the latest musicals, Shakespeare and, of course, pantomime.
Cromer's beautiful pier is home to the Pavilion Theatre, which is now the only theatre to produce an in-house end-of-pier show. Another pier famous for a different kind of entertainment is the Britannia Pier in Great Yarmouth. This is where you'll find comedy giants visiting to put on a wide range of shows.
If you want to get your cultural fix from music that will give you goosebumps, look out for a performance from the Norwich Philharmonic Society. It's a huge part of the city's musical heart and performs a wide repertoire of large-scale works throughout the year. Visit website
---
Our picks
---
Felbrigg Hall, Gardens and Estate
Felbrigg Hall, Gardens and Estate is a truly hidden gem. One of the most elegant country houses in East Anglia, the Hall is a place of surprises and delights, a mixture of opulence and homeliness where each room has something to feed the imagination. From the stained glass windows in the great hall to the nodding mandarins in the Chinese bedroom; from Queen Mary's teapot in the drawing room to the copper pans in the kitchen. Outside, the decorative and productive walled garden is a gardener's delight and inspiration, providing beautiful flowers for the hall, with the allotments in the walled garden providing fruit and vegetables for the community. You can enjoy watching the hens pecking wherever they wish with only the sound of the busy bees in the flowers. Visit website
---
Wells Maltings
The Maltings, Staithe St, Wells-next-the-Sea NR23 1AU
The Wells Maltings development provides a new heritage and learning centre, improved community facilities, state-of-the-art theatre and cinema, attractive cafe and bar, visitor information centre, box office and gift shop. Open from 10am daily, Wells Maltings offers everything from a great cup of coffee and slice of home-made cake to some attractive, one-off souvenirs. The visitor information centre and box office is open every day too and the friendly staff will be very happy to help you with your enquiries, whether about events and activities within the new Wells Maltings building itself, or about local accommodation, restaurants, other places of interest and excursions. Visit website
---
Norwich Playhouse
42 – 58 St Georges St, Norwich NR3 1AB
The Norwich Playhouse is known as one of the top comedy venues in Norwich but there's also an extensive events programme featuring shows from drama companies, musicians, kids' entertainers and more. Generally, The Playhouse is where you'll find something a little different in a relaxed and intimate environment. The colourful bar and large outdoor seating area offer a vibrant spot for a drink, just in case you fancy getting there a little early or staying late. Visit website
---
Peckover House and Garden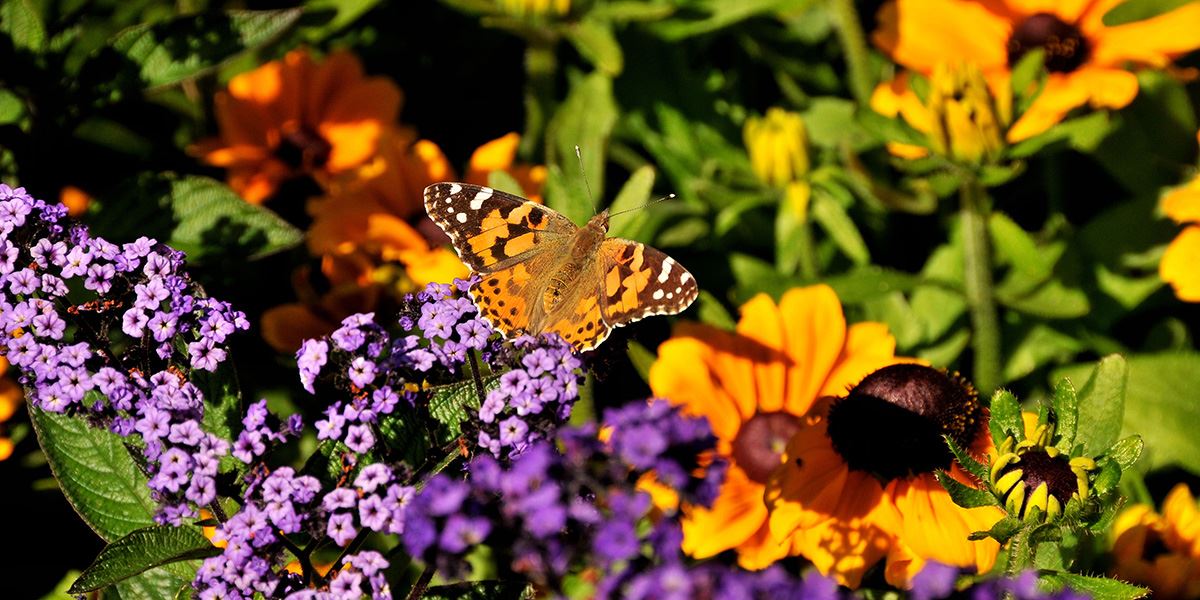 Peckover House is a secret gem, an oasis hidden away in an urban environment. A classic Georgian merchant's town house, it was lived in by the Peckover family for 150 years. The Peckovers were staunch Quakers, which meant they had a very simple lifestyle – yet at the same time they ran a successful private bank. Both facets of their life can be seen as you wander through the house and gardens. The gardens themselves are outstanding – 0.8 hectares (2 acres) of sensory delight, complete with orangery, summer-houses, croquet lawn and rose garden with more than 60 species of rose. Visit website
---
Oxburgh Hall
Oxburgh Hall, Oxborough, King's Lynn PE33 9PS
It's hard not to fall in love with Oxburgh Hall, when you catch your first glimpse of the imposing brick manor house, reflected in the tranquil moat. Built by the Bedingfeld family in 1482 as a statement of power and prestige, it remains their family home today. Peaceful now, Oxburgh and the family have endured turbulent times. Through religious persecution, Civil War devastation, near dereliction and threatened demolition, Oxburgh's story is one of survival. Step inside to discover the legacy of the 6th Baronet who created much of what you see today, from the Victorian Gothic interiors to the ornate architectural additions that reflect a romantic view of Oxburgh's medieval past. Look out for needlework created by Mary, Queen of Scots and a priest's hole, all of which reveal secrets of the past. Visit website
---
Like these? Try these…