Northumberland's arts and culture is steeped in history and remains vibrant to this day. It also has a rather impressive range of heritage assets – not least its castles. We have more than any other English county, for example at Dunstanburgh, Berwick-upon-Tweed, Bamburgh, Alnwick and Warkworth. Then there are our religious sites, such as the impressive Hexham Abbey, Lindisfarne Priory and Brinkburn Priory – not to mention our numerous stately homes and gardens, with Alnwick Gardens and Cragside being perhaps the best known. On southern, coastal Northumberland, the Newbiggin-by-the-Sea Art Trail gives visitors the chance to see a range of community, historical and modern art all inspired by and created in the town.
At the Woodhorn Museum, see the works of a remarkable group of men; The Pitmen Painters. The Pitmen Painters were coal miners who first came together in 1934 through the Workers Education Association to study 'something different' – art appreciation – at a form of evening class and what they produced were paintings capturing every aspect of life in and around their mining community. Another must-see attraction is Bamburgh Castle, which towers over the pretty coastal village. In addition, Cragside, former home of the millionaire industrialist Lord Armstrong, houses treasures gathered from around the globe.
Finally, having viewed art created by a group of 20th-century Northumberland men, it is time to look at the work of one Northumbrian man, more than 1,000 years earlier. His name was Eadfrith and he was Bishop of Lindisfarne between 698 and 721, during which time he single handedly created one of the world's greatest artistic and religious treasures; the Lindisfarne Gospels. Although the original is now in the British Library, visitors to the Lindisfarne Centre on Holy Island can see a perfect replica of the illuminated manuscript and find out more, not only about Eadfrith but also about the Vikings who invaded the island in AD 793.
---
Our picks
---
Woodhorn Museum
QEII Country Park, Ashington NE63 9YF
Woodhorn Museum brings to life Northumberland's proud mining heritage, alongside an ever-changing contemporary arts and event programme – making it a fun and cultural day out. Did you know that at its peak, over 2,000 people worked underground at the site? A whopping 600,000 tonnes of coal was mined from the pit each year. Come along and visit the North East's last remaining coal mining built heritage and check out the winding houses – including the most powerful winding engine in the region and the ventilation fan which took a direct hit, but survived the German bombing of 1941. The modern Cutter Building showcases the impressive banner collection, Coal Town exhibition and, of course, the iconic Ashington Group Collection. The mixture of the historic and the modern is something you can expect from all Museums Northumberland sites. Be sure to take a look at the wall of the Cutter Building which features a moving sculpture made up of 98 birds, fashioned from moulded miners' gloves – each of which sadly represent a life lost at Woodhorn Colliery throughout its history. Visit website
---
Alnwick Castle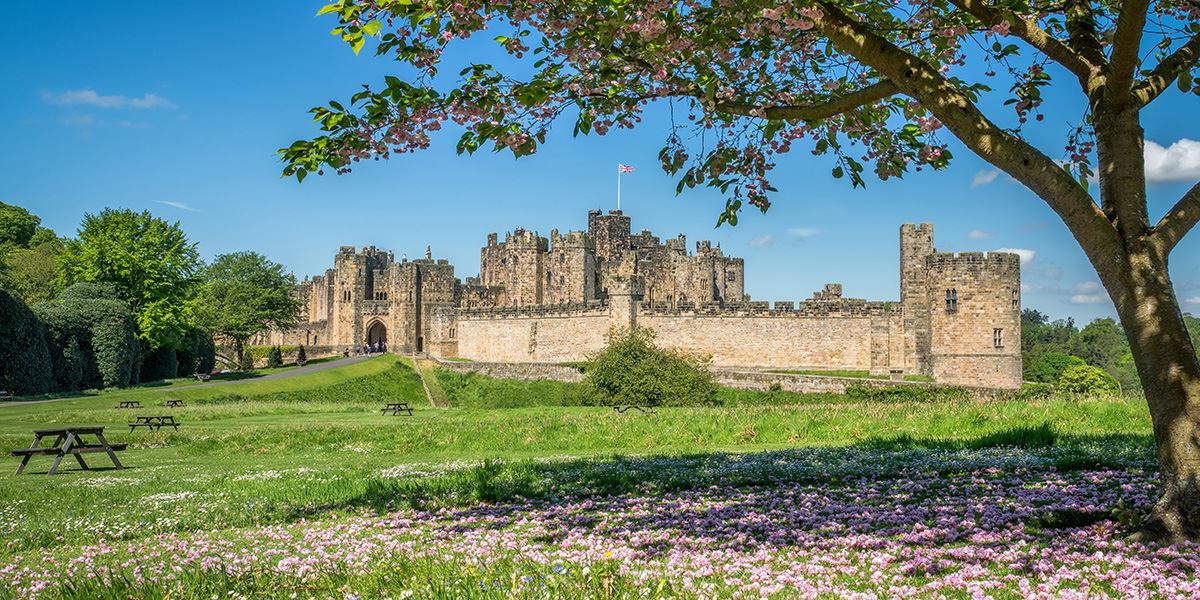 One of the largest and most iconic inhabited castles in England, Alnwick Castle has witnessed battles, rebellions, tragedy and romance, and has been home to a variety of interesting people – from Harry Hotspur to Harry Potter. Enjoy a tour of the collections of art and furniture in the treasure-filled state rooms, or join a Battleaxe to Broomsticks tour to find out about the castle's starring film roles. Join the resident Hogwartian professors and prefects for a broomstick-flying lesson on the very spot of Harry's first lesson. Learn medieval crafts and skills in Knight's Quest, before putting your skills to the test when facing the beast that lies within Dragon Quest. Visit website
---
Cragside
Truly a wonder of its age, Cragside was the first house in the world to be lit by hydroelectricity and is crammed full of ingenious gadgets – most of them still working. The gardens, too, are pretty spectacular and include one of the largest rock gardens in Europe along with a play area, where children can explore Nelly's Labyrinth, a network of paths and tunnels cut out of a vast area of rhododendron forest. Visit website
---
Berwick Museum and Art Gallery
The Barracks Parade, Berwick-upon-Tweed TD15 1DG
Berwick Museum and Art Gallery is home to the Berwick Burrell Collection, it's popular with visitors – many of whom were stationed at the Barracks which were in use up until 1964. It is not one to miss – an impressive array of artworks to suit every taste. It's made up of over 300 pieces including must-see oil paintings, watercolours, and drawings by masters including Degas, Boudin and Daubigny as well as locally-grown talents from Northumberland's very own Joseph Crawhall. Also taking pride of place are Medieval, Neolithic and Bronze Age artefacts, as well as Samurai armour and swords, East Asian art and Egyptian antiquities. There is even a 90-million-year-old dinosaur on display and the very own dragon – fun for people of all ages! Visit website
---
Queen's Hall Arts Centre
1-2 Beaumont St, Hexham NE46 3LZ
The 350-seater Queen's Hall Arts Centre, at Hexham, attracts the best international and national artists from music, drama, dance and national touring comedy to non-professional shows put on by local community groups. Visit website
---
Like these? Try these…
Northumberland restaurants and cafes