Sponsored
What better way to explore an incredible city and its gorgeous surroundings than by taking an unforgettable trip along stunning waterways with York City Cruises?
---
Few cities can boast the same stunning blend of history, architecture, and scenic beauty as York.
The city's waterways were instrumental in shaping the settlement across more than a millennium of history, and York City Cruises offer an exclusive way to discover the one-of-a-kind town.
However you want to explore the York's rivers, this award-winning attraction has a perfect solution.
Join a guided tour with local history experts, enjoy a memorable dining experience, or seize the helm of your own boat and set sail for adventure!
History comes alive on the water
York's history is as sprawling, fascinating, and astounding as the city itself.
The city's rivers have been its lifeblood since ancient times, and now they offer sightseers a fresh perspective on familiar scenes.
After boarding one of York City Cruise's fine vessels, passengers can relax in comfort in the enclosed saloon, or enjoy the fresh air on-deck.
And, unlike many other sightseeing tours available, the on-board bar ensures a full selection of beers, wines, spirits, hot beverages, soft drinks, and snacks are available at any time throughout the trip.
When you set sail and your local skipper begins to regale passengers with entertaining historical commentary, you'll be left in no doubt why the experience ranks as York's number one sightseeing tour.
Push the boat out for dinner
If you're looking for a dining experience with a difference, why not enjoy a freshly-prepared meal aboard a York City Cruises vessel?
Choose from a dedicated lunch cruise, serving a tasty two-course repast, or afternoon tea, featuring a selection local produce including homemade sandwiches, scones, preserves, cream , and desserts, or even an elegant evening dinner cruise for a mouth-watering three-course feast with wine.
All options include the cruises' popular commentary from the local skipper, as the boat glides upriver as far as Bishopthorpe Palace – the stunning riverside residence of His Grace the Archbishop of York – before turning around and returning you to King's Staith Landing.
Take the helm
The Vikings who settled in York (or Jorvik, as it was then called) were famed for their sailing prowess, and now you can follow in their wake.
Take command for one of the fleet's fourteen, red, self-drive motorboats, and explore York's waterways at your leisure.
Each boat can accommodate up to eight adventurers, and each party will be given a full briefing on how to operate the vessel, rules of the river, and safety guidelines before casting off.
The experience is perfect for adventurous couples, groups of friends, or families who want to experience York in a new and exciting way.
'Waterway' to party
For more than 15 years, York City Cruises has hosted some of the best parties on the water.
The popular Party Nights Afloat attraction is perfect for groups of any size looking to celebrate an unforgettable night.
Corporate getaways, birthdays, and more are all welcome – or even turn your wedding reception into an event no-one will forget!
Guests are greeted with a welcome drink as they step aboard, and as the boat pulls away, the tunes start to spin, and the dancefloor lights up.
A professional DJ takes care of the music, drinks are served all night at the onboard bar, and partygoers can tuck into a hot seasonal buffet.
With dancing, drinks, fun, and food, these incredible nights never fail to deliver a party like no other.
Your cruise, your way
Cruises and offerings change according to the time of year and even time of day.
Wrap up warm and join a Special Festive Cruises at Christmastime, or navigate by the stars on a relaxing evening cruise.
Whatever the occasion, there's always plenty on offer at York City Cruises.
If you're looking for something specific, the company also offers exclusive private hire services, tailoring the cruise to customers' exact needs.
An award-winning service
The sheer quality displayed by York City Cruises is often remarked upon by visitors, but it has also won acclaim from several of august bodies, including TripAdvisor, York Get Your Guide, and the Good Business Charter.
Perhaps the most impressive accolades the organisation has received are being named Visitor Attraction of the Year, and receiving a TripAdvisor Traveller's Choice award.
---
Where to find them
York City Cruises operates from two landings close to the heart of York:
King's Staith Landing, King's Staith, York, YO1 9SN
Lendal Bridge Landing, Lendal Bridge, York, YO1 7DP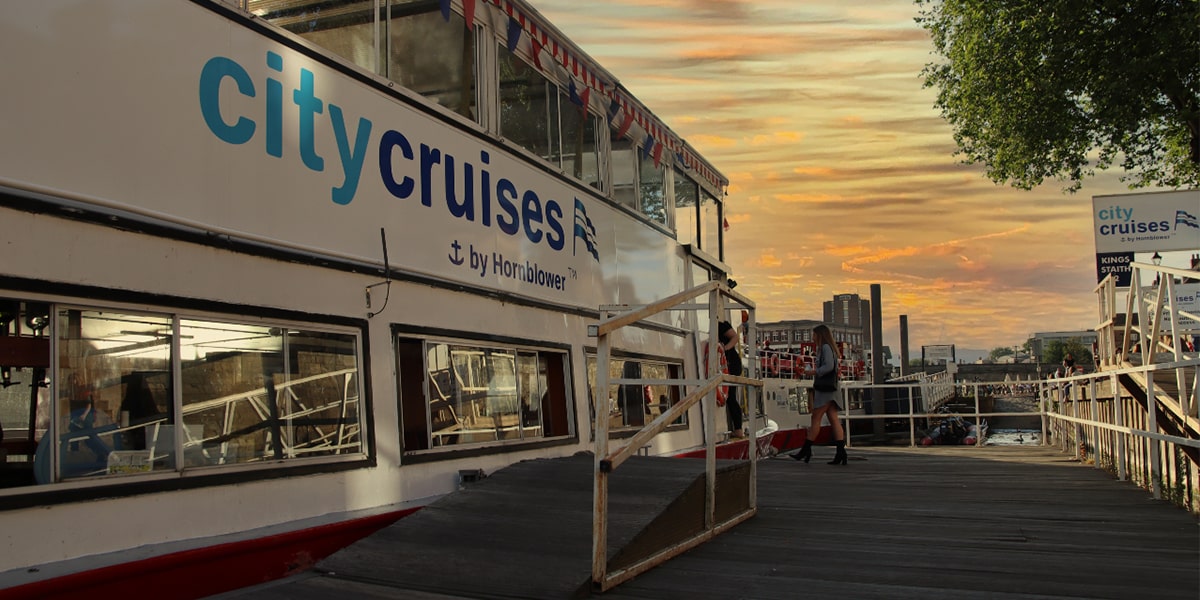 Contact
To book visit www.cityexperiences.com/york/city-cruises/
On-the-day tickets are also available, but pre-booking is recommended, particularly during peak times.
Call: 01904 628 324